12th Annual New Year's Vajrasattva Retreat
With Lama Tsultrim Sangpo
January 2 - 17, 2022
Gomde's Annual New Year's retreat focuses on the deity Vajrasattva—the "Lord of All Buddha Families" and an expression of the ultimate purity of our intrinsic nature. Vajrasattva is the essence of all the Buddhas, so all deities are included within this single deity and all practices within this one sadhana.
This profound practice of the Sangtik Dorsem was revealed by the great master, Chokgyur Lingpa, as part of the Sangtik cycle of instruction. It purifies the afflictions that arise due to our past negative actions, clears our mental obscurations, and reveals our stainless essence, the ultimate Vajrasattva.
Lama Tsultrim Sangpo has kindly agreed to lead us in the retreat this year, which will again be hosted online. Lama Tsultrim will provide expert guidance in how to properly undertake this retreat, as well as in the intricacies of the sadhana itself, allowing you to enter more deeply into the heart of Vajrasattva practice.
Practitioners of all levels are welcome to attend.
Retreat Structure
Lama Tsultrim Sangpo will lead this retreat via Zoom; and while this will be an online retreat, Gomde will provide resources so that you will be able to join from home and still reap the rewards of committed retreat practice.
The retreat structure will include four sessions of practice per day, each about 2 hours long. Early morning and evening sessions will be practiced individually, with the aid of video recordings, while late morning and early afternoon sessions will be streamed live, and integrated with instruction and Q&A opportunities
Lama Tsultrim has encouraged all who are interested in attending to come. Preferably, retreatants join for the entire two weeks; but if this is not possible, you may join for a weekend of practice, or even for a single session of practice. In any case, we highly recommend attending the beginning sessions of the retreat, in order to get oriented in the practice.

The options to join are as follows:
1) Join for all sessions over the two-week practice period.
2) Join for one, or multiple, weekends of the practice period.
3) Join for a single session of the practice period.
The weekend practice periods are as follows: 1) Sunday, January 2nd (and optionally Monday, January 3rd); 2) Saturday and Sunday, January 8th-9th; and 3) Saturday and Sunday, January 15th-16th (and optionally Monday, January 17th).
Optional dates are given above in case the retreatant would like to extend their participation longer than the weekend, so they can join the first full day of retreat (Jan. 3rd) and/or the final day of retreat (Jan. 17th). There would be no need to make an extra payment in this case: these optional dates are included in the weekend rate.
The group sessions will be at 9:00 am PT and 2:00 pm PT. A full daily schedule with the session times will be sent to all retreatants a few days prior to the start date.
Program Fee
Suggested: $320 (full retreat); $108 (per weekend); $27 (per session)
Gomde California is providing this program on a sliding scale, allowing all who are interested to join at the level they are able: during registration, simply enter the amount you are financially able to give. We suggest giving at the suggested amount if possible, to help us cover the center's program and operational costs. Upon registration, there will also be opportunities to contribute to initiatives currently underway at Gomde. In addition, if you are able, we encourage you to help us sustain the Dharma in the West by becoming a monthly donor here: Giving to Gomde.
Technical Details
A Zoom link to access the retreat will be sent upon registration.
We will use the Zoom platform for the entire retreat
The group sessions will be recorded and made available to participants afterward. An email will be sent out when the recordings are available.
You can view the program at a time that is convenient for you. You are not required to join the live sessions.
If you enroll after the program starts you will have access to the recordings.
If you have any questions, please contact us at programs@gomdeca.org.
Leader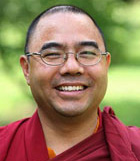 Lama Tsultrim Sangpo
A senior monk and chant master at Ka-Nying Shedrub Ling monastery in Kathmandu, Lama completed a traditional three year retreat under the guidance of Tulku Urgyen Rinpoche.  He currently trains the younger monks at the monastery in the practice of the ritual arts.
Learn more about Lama Tsultrim Sangpo