Buddhist Studies Summer Program
With Lama Tsultrim Sangpo
June 6 - July 29, 2022
The Buddhist Studies Summer Program (BSSP) is a residential study and practice program that combines both traditional and academic approaches to Buddhist Studies. Students in the BSSP spend four to eight weeks at our remote Northern California center, participating in concentrated daily sessions of Buddhist teaching and meditation led by our lamas, teachers, and translators.
This summer, we will focus on both the Sutric and Tantric teachings of Indo-Tibetan Buddhist tradition, guided by our resident teacher, Lama Tsultrim Sangpo. Daily study of these philosophical and practice traditions will be supported by regular review sessions and ample space to integrate these teachings into our experience.
The philosophical intent of our studies will be brought to life through daily meditation sessions and short retreats, as well as optional Tibetan language training.
Students will also have plenty of time to explore and enjoy the forests, rivers, and gardens of Gomde California in the summertime.
Program Structure
Part I, June 6 – June 26: Cultivating the Awakened Mind of Bodhicitta
Part I Retreat, June 29 — July 3: The Practice of Chöd Retreat
Part II, July 6 – July 21: Introduction to the Practice of Vajrayana
Part II Retreat, July 22 — July 29: The Secret Essence of Varjakilaya Retreat
Lama Tsultrim Sangpo will guide us through treasured commentaries on the practice of Buddhism. For Part I, the first half of the program, Lama Tsultrim has selected The Thirty-Seven Practices of a Bodhisattva, a lojong, or mind-training, text, through which he will give detailed and comprehensive instructions on the stages of the key points on the development of bodhicitta, the awakened mind of unified wisdom and compassion. This section will conclude with a retreat on Chöd practice, available both onsite and online.
In Part II, the second half of the program, Lama Tsultrim will introduce students to the fundamentals of Vajrayana ritual practice. These teachings will be supplemented by evening meditation sessions, incorporating the profound and elaborate methods of the Indo-Tibetan Buddhist tradition. This section will conclude with a Vajrakilaya retreat, now available onsite and online.
Classes will be offered five days per week, Wednesday through Sunday, with Mondays and Tuesdays off for personal study, practice, and enjoyment of Gomde California's beautiful land.
Program Costs
Residential Tuition:
Full Program: $2100
Part I or II: $1050
Participants may choose to join the full Summer Program, or alternatively join for only Part I or Part II (see Program Description for dates). Residential tuition includes attendance at all major summer programs that occur within the program period, lodging, three meals per day, five days each week, along with participation in daily classes and practice sessions. Optional camping trips and variety social events are included. All participants will be asked to assist with the minor chores of maintaining a Buddhist practice center and to assist with intermittent summer programs. All attendees will have ample time to engage in private study and practice. Additionally, if you sign up for one part of the program only, online access to the other part is included in the tuition.
Online Tuition:
$480 (suggested); $600 (sponsor); $360 (reduced)

Registration includes access to teachings on Mahayana mind-training and Vajrayana ritual practice with Lama Tsultrim Sangpo, as well as the opportunity to periodically submit questions to Lama Tsultrim. Online participants will retain access to the recordings of the teachings, so that they may review them at a later date as well. Registrants also gain online access to The Practice of Chöd retreat, taking place June 29 – July 3, while attendance to the The Secret Essence of Vajrakilaya retreat should be accessed by registering here.
Online Streaming Schedule:
7:00 am — Morning Group Practice (Treasury of Blessings, Siddhartha Tara, Sang Offering)
4:00 pm — Teaching Session with Lama Tsultrim Sangpo
5:30 pm — Evening Group Practice (Concise Daily Practice or Vajrakilaya with Protectors)
*All times in Pacific Time
The Residential program application window is now closed, while the Online program is still open for registration. If you would still like to attend these teachings in person, you may do so for Part I by registering for one of the June Dharma Weekends, for The Practice of Chöd retreat, or for a Campground Retreat during the month of June.
Leader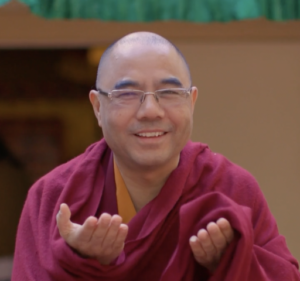 Lama Tsultrim Sangpo
A senior monk and chant master at Ka-Nying Shedrub Ling monastery in Kathmandu, Lama completed a traditional three year retreat under the guidance of Tulku Urgyen Rinpoche.  He currently trains the younger monks at the monastery in the practice of the ritual arts.
Learn more about Lama Tsultrim Sangpo