The Practice of Chöd: Retreat
With Lama Tsultrim Sangpo
June 29 - July 3, 2022
Chöd, or "cutting through," is a profound practice which cuts to the heart of wisdom and compassion. Traditionally attributed to the eleventh-century female practitioner Machig Labdrön, it is prevalent in many Tibetan Buddhist lineages. Combining the view of the Prajnaparamita sutras with tantric visualization methods, chöd is a direct meditational approach to severing ego-clinging. Chöd practice is also known for its hauntingly beautiful melodies, and has traditionally been used as part of Buddhist healing rituals. Chökyi Nyima Rinpoche has repeatedly emphasized the importance of practicing chöd, and of perfecting our understanding of both its profound meaning and its lineage of ritual techniques.
Lama Tsultrim Sangpo is returning to Gomde California this summer and will lead us in this in-person and online retreat, focusing on the concise Chokling Tersar chöd manual entitled "The Daily Practice for Giving the Body." Over the course of the retreat, Lama Tsultrim will introduce this chöd sadhana, and provide expert instruction in the melodies and use of ritual implements. Participants will also have the opportunity to ask questions.
Whether you are a beginner or a long-time practitioner of chöd, this retreat allow for a meaningful exploration of this practice. All registrants will gain immediate access to recordings of Prof. Catherine Dalton's 2021 online course on the Tibetan words of the sādhana, so that we may gain greater mastery of this method for realizing prajnaparamita, the perfection of wisdom.
Retreat Structure
This retreat took place on-site at Gomde California and via Zoom from June 29th to July 3rd, 2022. Registrants will gain access to the recordings of the Chöd teaching and practices sessions, which include occasional Q&A.
Leader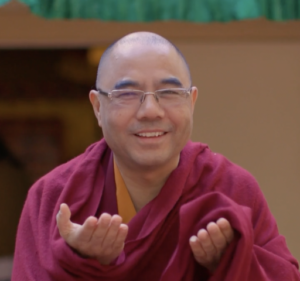 Lama Tsultrim Sangpo
A senior monk and chant master at Ka-Nying Shedrub Ling monastery in Kathmandu, Lama completed a traditional three year retreat under the guidance of Tulku Urgyen Rinpoche.  He currently trains the younger monks at the monastery in the practice of the ritual arts.
Learn more about Lama Tsultrim Sangpo