Summer Sangha Gathering
With Chokyi Nyima Rinpoche
Flexible Dates
Gomde California will host a Summer Sangha Gathering to receive Chokyi Nyima Rinpoche's teachings online, live-streamed from Gomde Germany-Austria, in two parts from August 25th – September 4th. This is a time for the Sangha to come together to practice, receive instructions from our beloved teacher, and relax in the golden atmosphere of Gomde in August.
Teaching Schedule for Global Livestream from Gomde Germany-Austria
Part One
Aug 25th & 26th: Teachings with Chokyi Nyima Rinpoche
Aug 27th: Ngakso Puja (online streaming TBD)
Aug: 28th & 29th: Teachings
Aug: 30th & 31st: Empowerments (NO ONLINE STREAMING)
Part Two
September 1st – 4th: Teachings with Chokyi Nyima Rinpoche
*IMPORTANT*
On August 30th and 31st teachings will NOT be live-streamed, as those will be empowerment days at Gomde Austria. Additionally, the Ngakso Puja will be practiced in Gomde Austria on August 27th. On these days we will engage in group Vajrasattva practice (Sangtik Dorsem) in the mornings and evenings.
Rinpoche's teachings will begin at 6:00 am PDT on teachings days, therefore participants should arrive one day in advance of whatever teachings they plan to attend.
Attendance Criteria
If Sangha members would like to join Part Two, they will need to meet one of the following criteria:
Attend Part One of this series of teachings (viewing Part One at home is acceptable)
Have started ngondro or are genuinely about to start ngondro
Have started the Second Excellence or are about to start the Second Excellence.
Have previously attended Part Two of a seminar with Chokyi Nyima Rinpoche
Students are able to register for partial attendance at Gomde if they are watching the teachings from home and would also like to visit the center for a few days. The program will be supplemented by group practices, Dharma talks, community events, and plenty of special moments by the Eel River in late summer.
Leader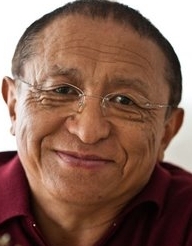 Chokyi Nyima Rinpoche
Meditation master and renowned teacher Chokyi Nyima Rinpoche has been teaching audiences around the world for the past 25 years. Marked by warmth, humor and wit, his teachings offer a unique opportunity to directly connect with the Buddhist tradition in a fresh, vital way that is relevant to our lives today. The eldest son of Tulku Urgyen Rinpoche, Chokyi Nyima Rinpoche was born in 1951 in Eastern Tibet. At the age of 18 months, he was recognized as the seventh incarnation of the Drikung Kagyü lama Gar Drubchen, a Tibetan siddha and a spiritual emanation of Nagarjuna, the second-century Indian Buddhist…
Learn more about Chokyi Nyima Rinpoche