Buddhist Studies Summer Program 2023
With Tsangsar Tulku Rinpoche
June 14 - August 11, 2023
The Buddhist Studies Summer Program (BSSP) is an intensive residential study and practice program. Students in the BSSP spend four to eight weeks at our remote Northern California center, participating in concentrated daily sessions of Buddhist teaching and meditation led by our lamas, teachers, and translators.
This summer, we will focus on both the Sutric and Tantric teachings of Indo-Tibetan Buddhist tradition, guided by Tsangsar Tulku Rinpoche. Daily study of these philosophical and practice traditions will be supported by regular review sessions and ample space to integrate these teachings into our experience. The philosophical intent of our studies will be brought to life through daily meditation sessions and longer practice retreats.
Students will also have plenty of time to explore and enjoy the forests, rivers, and gardens of Gomde California in the summertime.
Program Structure
Part I, June 14 – July 9: Cultivating the Awakened Mind of Bodhicitta
Part II, July 12 – August 11: Introduction to Vajrayana View and Meditation
Throughout the summer, Tsangsar Tulku Rinpoche will guide us through treasured Buddhist commentaries. For Part I, the first half of the program, Tsangsar Tulku Rinpoche will teach "The Jewel Ornament of Liberation," by the Kagyu forefather, Gampopa.  He will give detailed and comprehensive instructions on the stages of the key points in the development of bodhicitta, the awakened mind of unified wisdom and compassion.
In Part II, the second half of the program, Tsangsar Tulku Rinpoche will introduce students to the Mahamudra view and meditation. These teachings will be supplemented by evening meditation sessions, incorporating the profound and elaborate methods of the Indo-Tibetan Buddhist tradition. This section will conclude with a Mahamudra practice retreat from July 24 – July 28.
Teachings will be offered five days per week, Wednesday through Sunday, with Mondays and Tuesdays off for personal study, practice, and enjoyment of Gomde California's beautiful land.
Program Costs
Residential Tuition:
Full Program: $3600
Part I or II: $1850
Participants may choose to join the full Summer Program or alternatively join for only Part I or Part II (see Program Description for dates). Residential tuition includes attendance at all major summer teaching events (such as Chokyi Nyima Rinpoche's onsite seminar) that occur within the program period, lodging in our campground "tent cabins," three meals per day, five days each week, and participation in daily classes and practice sessions. Optional camping trips and other social events are included. All residential participants will assist with the minor chores of maintaining a Buddhist practice center and help run the intermittent summer programs for non-residents. All attendees will have ample time to engage in private study and practice.
*All participants will be expected to contribute some form of service practice to the center throughout the summer, and during our large seminar programs with visiting Rinpoches. If you are unable to offer physical service for a particular reason, please write to us at coordinator@gomdeca.org.*
Limited need-based scholarships are available.
Online
Information regarding online attendance will become available in May 2023.
Application
To apply for the program, please register and submit the customary $100 deposit. Once you are accepted, an invoice will be sent to you with the remaining balance to be paid by credit card.
Cancellations within 3 weeks of the start of the program are subject to a $100 processing fee.
Leader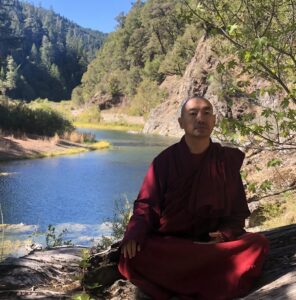 Tsangsar Tulku Rinpoche
Tsangsar Tulku Rinpoche was born in 197​5​. After finishing a three-year retreat, which he began at age 13, h​​e took on the responsibility of Retreat Master at the seat of his father and ancestors at Tsangsar Lha Lam Osel Ling. At the age of 17, ​Rinpoche received full ordination from Venerable Dil Yag Dabzang Rinpoche, and at the age of 18​ he​ was recognized ​by His Eminence Tai Situ Rinpoche ​as the fourth incarnation of Ngag Gy​ud ​Dh​argye Gyatso,​ who was a student of Situ Pema Nyiche​. ​ Tsangsar Tulku Rinpoche spent several years studying and practicing at Ka-Nying Shedrub…
Learn more about Tsangsar Tulku Rinpoche