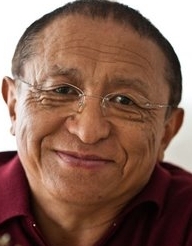 Meditation master and renowned teacher Chokyi Nyima Rinpoche has been teaching audiences around the world for the past 25 years. Marked by warmth, humor and wit, his teachings offer a unique opportunity to directly connect with the Buddhist tradition in a fresh, vital way that is relevant to our lives today.
The eldest son of Tulku Urgyen Rinpoche, Chokyi Nyima Rinpoche was born in 1951 in Eastern Tibet. At the age of 18 months, he was recognized as the seventh incarnation of the Drikung Kagyü lama Gar Drubchen, a Tibetan siddha and a spiritual emanation of Nagarjuna, the second-century Indian Buddhist philosopher.
Shortly before the Chinese invasion of Tibet in 1959, Rinpoche left with his family for Sikkim. From the ages of 13 to 24, he studied in the Karma Kagyü, Drikung Kagyü, and Nyingma traditions under the guidance of such eminent masters as the 16th Gyalwa Karmapa, Dilgo Khyentse Rinpoche, and Tulku Urgyen Rinpoche. He achieved the degree of khenpo at a very early age.
In 1974 he left Rumtek to join his family in Boudhanath, Nepal, where, at the command of the 16th Karmapa, they established Ka-Nying Shedrub Ling Monastery. Installed as the monastery's abbot in 1975 by the Karmapa, Rinpoche followed the Karmapa's advice to turn his efforts towards instructing Western practitioners. Honing his English language skills, he began to offer weekend teachings to travelers. Over the years this has developed into an annual 10-day. Rinpoche's Saturday morning teachings at the monastery remain a popular event, drawing dozens of visitors each week. He founded the Rangjung Yeshe Institute for Buddhist Studies in 1981. Rinpoche is also the founder of Rangjung Yeshe Publications, with more than 40 Buddhist titles, including his own books: Union of Mahamudra and Dzogchen, Song of Karmapa, Bardo Guidebook, Indisputable Truth, and Present Fresh Wakefulness.
Events with Chokyi Nyima Rinpoche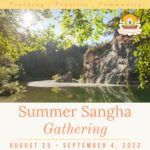 Summer Sangha Gathering
Flexible Dates
Gomde California will host a Summer Sangha Gathering to receive Chokyi Nyima Rinpoche's teachings online, live-streamed from Gomde Germany-Austria, in two parts from August 25th – September 4th. This is a time for the Sangha to come together to practice, receive instructions from our beloved teacher, and relax in the golden atmosphere of Gomde in August. Teaching Schedule for Global Livestream from Gomde Germany-Austria Part One Aug 25th & 26th: Teachings with Chokyi Nyima Rinpoche Aug 27th: Ngakso Puja (online streaming TBD) Aug: 28th & 29th: Teachings Aug: 30th & 31st: Empowerments (NO ONLINE STREAMING) Part Two September 1st –…