KNSL Series: Foundational Buddhist Philosophy
With Khenpo Pema Namgyal and Khenpo Tsondru Sangpo
October 5 - November 11, 2020
Chokyi Nyima Rinpoche has requested the Khenpos and Lopons at Ka-Nying Shedrub Ling to give teachings on foundational Buddhist philosophical topics for the benefit of the worldwide sangha. Rinpoche is encouraging us to take this opportunity to study these topics thoroughly, to take notes, and ask questions of our extraordinary monastic teachers. Studying these topics will help us more fully receive Choky Nyima Rinpoche's teachings during the upcoming online November seminar (details to come).
Through registering here, you will have access to all of the previous teachings and upcoming teachings with our Khenpos and Lamas. This "teaching room" is offered on a donation basis. Please see below for further details:
General Schedule and Topics

October 5th, 6th, 7th, 12th, 13th, and 14th: "The Four Truths of the Noble Ones" (recordings available)
October 19th, 20th, and 21st: "Twelve Links of Dependent Origination" (recordings available)
October 26th, 27th, and 28th: "The Two Truths"
November 2nd, 3rd, and 4th: "The Four Mind Changings"
November 9th, 10th, and 11th: "Development Stage and Completion Stage"
The Online Seminars

The program will include live-streamed primary teachings and Q&A sessions with our Khenpos and Lamas. Each session will be about 1.5 hours long.

All live sessions will be available with English translation on Dharmasun.org.
Translation via Zoom will be available into: Chinese, German, Nepali, Spanish, Russian, and Ukrainian.
If you cannot attend the teaching sessions live, recordings will be made available to all registered participants on DharmaSun until November 18th.
Teaching Schedule

Each session will be about one and a half hours long. Please make sure to check the timing for your particular time zone by using the time-converter links below.
Main Teachings:

All of the main teaching sessions will take place on the Monday and Tuesday of each week at 8:00 am Pacific Time leading up to the November seminar.
Live Q&A Sessions:
There will be two different Q&A sessions to accommodate as many students as possible. All Q&A sessions will take place on Wednesday of each week.
Q&A Session One (English, Nepali, Chinese)
Kathmandu: 3:45pm (time-converter)
Beijing: 6:00 pm
Q&A Session Two (English, German, Nepali, Russian, Spanish, Ukrainian)
Kathmandu: 8:45 pm (time-converter)
Kyiv: 5:00 pm
London: 3:00 pm
Mexico City: 9:00 am
New York: 11:00 am
San Francisco: 8:00 am
Vienna: 4:00 pm
Registration
Registration is open until November 11th. To register, you must be logged into DharmaSun.org

Donation
During and after registration you will have the opportunity to donate to any of Chokyi Nyima Rinpoche's Gomdes or Dharma Houses for these teachings.
Please help support the international centers, which cannot host regular programming during this unique time. These centers serve as the spiritual homes for so many sangha members around the world, and are important sources of learning, practice, inspiration, and spiritual support.
A portion of your donation to the Gomdes or Dharma Houses will automatically go to Ka-Nying Shedrub Ling and the instructing teacher.
If you are not connected with a particular Gomde or Dharma House, you can also make a donation directly to DharmaSun.org
If you have any questions, please email seminar@shedrub.org
Leaders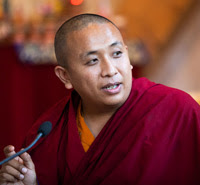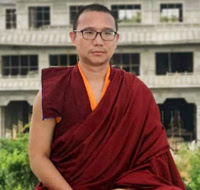 Khenpo Tsondru Sangpo
Khenpo Tsondru Sangpo was born in Northwestern Nepal in Mugum Bazaar. When he was eleven years old he was ordained by Kyabje Chökyi Nyima Rinpoche at Ka-Nying Shedrub Ling Monastery, in Boudhanath, Nepal. He completed his basic studies in the monastery's elementary school, memorizing many texts and receiving the visual transmission of the monastery's tradition of chanting. He received novice and fully ordained monastic vows from Kyabje Tenga Rinpoche. In 1998 he began his studies in the monastic college, the Sangye Yeshe Higher Shedra. He studied in the Shedra for ten years, training in the traditional way, via learning and…
Learn more about Khenpo Tsondru Sangpo