Whether you're visiting for one of our programs, for a private retreat, or to connect with our community of Dharma practitioners, we look forward to welcoming you to the land. Gomde California is located right off of Highway 101 — the famed Redwood Highway — on the southern outskirts of Leggett, California, a small town in northern Mendocino County.
Learn More About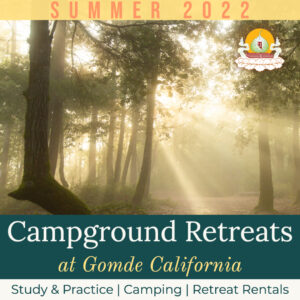 Flexible Dates
During this summer season (June 6–September 30), we are delighted to welcome visitors to our campground. You are welcome to come visit for the day or bring your own camping gear for an overnight visit on our 250-acre property. If you are interested in doing a private retreat in our Retreat Cabin, please sign up here. Our resident teacher, Lama Tsultrim Sangpo, will be providing guidance every day, Wednesday through Sunday, and you are welcome to drop-in to the practice and teaching session. Just ask a staff member and we'd be happy to orient you. Aside from the study and…
---
How to Get to Gomde
Travel By Car
Gomde California is
3½ hours north of San Francisco or Sacramento
1 hour north of Ukiah, the seat of Mendocino County
1½ hours south of Eureka
Driving From San Francisco
Take Highway 101 North across the Golden Gate Bridge. Drive for approximately three hours on Highway 101 through the town of Laytonville. Continue north for about 20 miles and exit Highway 101 at the So. Leggett Exit #614 (the ramp exits to the right).
At the top of the exit ramp, turn left. This will take you across the highway overpass to a T-junction where the access road ends and you have the option of either making a hard left or a hard right onto another road. Do neither: look ahead and slightly to the left and you will see an entrance gate with a sign marked "Rangjung Yeshe Gomde California." Cross the road and enter the gate. Follow the road to the left and you will see a parking area across from the Sangha House. Proceed to the Sangha House for check-in.
Driving from the North
Take Highway 101 South to the So. Leggett Exit #614. At the stop sign at the end of the exit ramp, your car will be pointing directly towards the Gomde entrance gate. Cross the road and enter the gate.
Travel By Bus
Greyhound Bus from the South
Greyhound leaves San Francisco and arrives in nearby Garberville, CA. A staff member can pick you up given 3 days notice. There is a $10 gas fee. For more schedules and other information, please visit: www.greyhound.com
Amtrak Bus
Amtrak passengers can ride the Capitol Corridor/Amtrak Thruway Bus (Route 7) bus between the Martinez station (East Bay, Sacramento) and Willits, CA. A staff member can pick you up given 3 days notice. There is a $15 gas fee. For update schedules and more information, please visit: www.capitolcorridor.org/stations/martinez/
Travel By Air
The closest international airport is San Francisco International Airport (SFO). Rental cars are available here for the 3½-hour drive.
Reasonable domestic fares are often available to other airports within driving distance to Gomde. Another plus: often you can avoid heavy traffic around the San Francisco Bay area by using an alternative airport. Rental cars are available at all these locations:
Oakland International Airport (OAK), 4 hours drive
Sacramento Airport (SMF), 4 hours drive
Santa Rosa Airport (STS), 3 hours drive
Eureka/Arcata Airport (ACV), 1.5 hours drive
---