Sang: The Practice of Smoke Offering
With Lama Tsultrim Sangpo
Open Dates
Sang is the Tibetan Buddhist practice of offering precious incense to clear away obstacles and gather auspicious conditions for our Dharma practice. While the benefits of this practice are well known, the proper method for doing so is rarely taught in detail. Therefore, in this weekend workshop, Lama Tsultrim Sangpo guides us in how to correctly offer sang, using The Condensed Smoke Offering liturgy from the Guru's Heart Practice that Dispels All Obstacles (Tukdrup Barchey Kunsel) as a basis.
Guru Padmasambhava himself extolled the benefits of sang practice as follows:
"When done regularly, and especially to create auspicious circumstances when starting any vital task of either spiritual or secular character, sang pacifies all damage, obscuration, and adversity; and effortlessly increases favorable conditions and goodness. Harvests will be good, livestock will multiply, and your descendants will flourish. Your Dharma lineage will last long and will be held in high esteem. You will magnetize everything excellent of this world and its inhabitants. Perfect auspiciousness, happiness, and excellence will manifest. Eventually, you will perfect the accumulation of merit and thereby supreme wisdom will arise without any effort. Therefore everyone should treasure these profound instructions."
Seminar Structure
Lama Tsultrim gave these teachings via Zoom over the course of three sessions. Dr. Catherine Dalton translated, and there were also practice sessions streamed live from Gomde California. Registrants will gain access to the recordings of all sessions. Each session is between 1 and 2 hours long.
Day 1
6:00 pm PT: Introductory teaching with Lama Tsultrim
Day 2
9:00 am PT: Practice session with Gomde California community
6:00 pm PT: Teaching session with Lama Tsultrim
Day 3
9:00 am PT: Practice session with Gomde California community
6:00 pm PT: Concluding Q&A with Lama Tsultrim
Program Fee
Suggested Price of $108 (sliding scale)
Gomde California is providing this program on a sliding scale, allowing all who are interested to join at the level they are able. During registration, simply write in the amount you are financially able to give. We suggest giving $108 if possible, to help cover Gomde's operational costs. Upon registration, there will also be opportunities to contribute to initiatives currently underway at Gomde. In addition, if you are able, we encourage you to help us sustain the Dharma in the West by becoming a monthly donor here: Giving to Gomde.
Technical Details
A Vimeo link to access the program recordings will be sent upon registration.
You can view the program at a time that is convenient for you. You are not required to have joined the live sessions.
Leader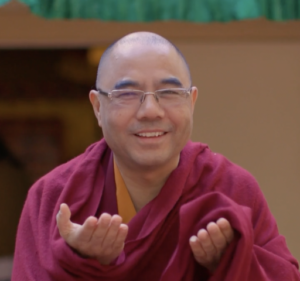 Lama Tsultrim Sangpo
A senior monk and chant master at Ka-Nying Shedrub Ling monastery in Kathmandu, Lama completed a traditional three year retreat under the guidance of Tulku Urgyen Rinpoche.  He currently trains the younger monks at the monastery in the practice of the ritual arts.
Learn more about Lama Tsultrim Sangpo