Buddhist Perspectives on Vegetarianism and the Modern Animal Rights Movement
With Dr. Geoffrey Barstow
Open Dates
Tibetan Buddhism contains diverse perspectives on the question of vegetarianism. In this talk, Dr. Geoffrey Barstow will explore some of those perspectives, illuminating the complex ethical debates over eating meat within the Buddhist tradition. He will then look at how those perspectives differ from those of the contemporary animal rights movement, suggesting places where Buddhist ideas could enrich contemporary debates.
Lecture Format

Dr. Barstow will deliver this lecture via Zoom. Registrants will gain access to the recordings of all sessions. An hour-and-a-half in length, the lecture will include time for discussion and Q&A with the audience.
Date: Thursday, December 16
Time: 4:00 – 5:30 pm PT.
Program Fee
Suggested Price of $27 (sliding scale)
Gomde California is providing this program on a sliding scale, allowing all who are interested to join at the level to which they are able. During registration, simply write in the amount you are financially able to give. We suggest giving $27, if possible, to help us cover the center's program and operational costs. Upon registration, there will also be opportunities to contribute to initiatives currently underway at Gomde. In addition, if you are able, we encourage you to help us sustain the Dharma in the West by becoming a monthly donor here: Giving to Gomde.
Technical Details
A Zoom link to access the program will be sent upon registration.
The program will be recorded and made available to participants afterward. An email will be sent out when the recordings are available.
You can view the program at a time that is convenient for you. You are not required to join the live sessions.
If you enroll after the program starts you will have access to the recordings.
If you have any questions, please contact us at programs@gomdeca.org.
Leader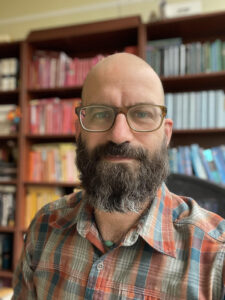 Dr. Geoffrey Barstow
Geoffrey Barstow has been a student of Chokyi Nyima Rinpoche for more than twenty years, was an early graduate of RYI, and is now an associate professor of Buddhist Studies at Oregon State University. His scholarship focuses on Tibetan Buddhist ideas about animal ethics, and particularly the question of vegetarianism.
Learn more about Dr. Geoffrey Barstow