Becoming Divine: Four Stakes that Bind the Life-Force (Concise Daily Practice)
With Lama Tsultrim Sangpo
Open Dates
In this 4-part online series, Lama Tsultrim Sangpo unpacked an essential aspect of tantric practice—the development stage. To properly realize our innate nature through sadhana practice, the great masters from Guru Padmasambhava down to our present teachers emphasize the necessity of "binding the life force" of the deity through planting four "stakes". These four points condense the essential methods of the development stage, and thus allow us to truly take hold of the deity—our own deepest nature.
Lama Tsultrim, a master himself in all aspects of tantric ritual practice, guided us through an in-depth exploration these four stakes that bind the life force (sok dom ser zhi):
The stake of absorption in the deity (ting nge dzin lha'i zer)
The stake of the essence mantra (nyingpo ngak kyi zer)
The stake of projection and absorption (tro du trinlé kyi zer)
The stake of the unchanging realization (gongpa mingyurwé zer)
Our exploration of these teachings unfolds over the course of four evening sessions, live via Zoom, translated by Dr. Catherine Dalton. The four stakes are applicable to the practice of all tantric sadhanas, and thus provide essential instructions for anyone interested in the practice of deity yoga. For those attending Dr. Dalton's June 17–19 workshop focusing on the meaning of the Tibetan text of The Concise Practice of Guru Rinpoche, this series of teachings with Lama Tsultrim will provide an essential complement, with guidance on how to actually put the sadhana into practice and to train authentically in the development stage.
Series Structure
Lama Tsultrim gave these teachings via Zoom over four sessions on Tuesday and Thursday evenings.
Online registrants will now gain access to the recordings of all sessions. Each session was about 2 hours long.
Program Fee
Suggested Price of $108 (sliding scale)
Gomde California is providing this program on a sliding scale, allowing all who are interested to join at the level they are able. During registration, simply write in the amount you are financially able to give. We suggest giving $108 ($27 per session) if possible, to help us cover the center's program and operational costs. Upon registration, there will also be opportunities to contribute to initiatives currently underway at Gomde. In addition, if you are able, we encourage you to help us sustain the Dharma in the West becoming a monthly donor here: Giving to Gomde.
Technical Details
The recorded teachings are available to participants upon registration.
You can view the program at a time that is convenient for you.
If you have any questions, please contact us at programs@gomdeca.org.
Leader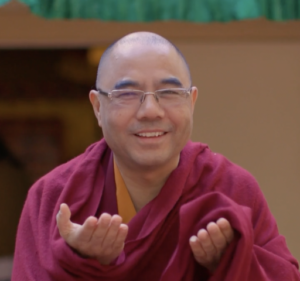 Lama Tsultrim Sangpo
A senior monk and chant master at Ka-Nying Shedrub Ling monastery in Kathmandu, Lama completed a traditional three year retreat under the guidance of Tulku Urgyen Rinpoche.  He currently trains the younger monks at the monastery in the practice of the ritual arts.
Learn more about Lama Tsultrim Sangpo